Dr. Malte Köllner awarded "Lawyer of the Year": Handelsblatt Ranking 2022 for Germany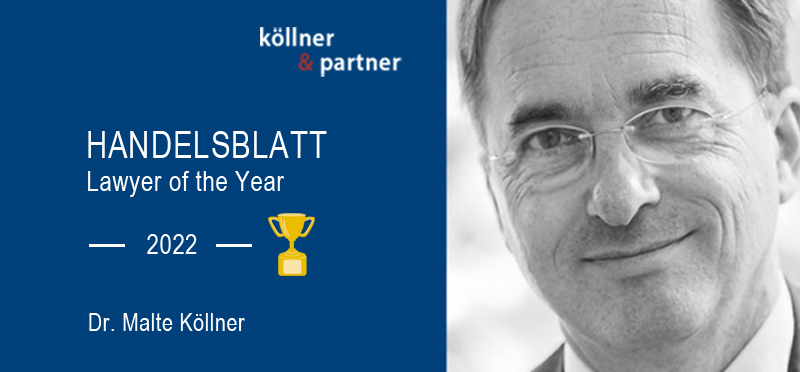 For the 14th time, Handelsblatt has published its
ranking of the best lawyers and law firms in Germany
, in cooperation with the US publisher Best Lawyers.
Handelsblatt distinguishes the "Law Firms of 2022" and the "Best Lawyers of 2022" in comprehensive overviews; in many cases, several lawyers from a large law firm are named in this way.
A special and smaller circle can be found in the category "Lawyers of the Year 2022". According to Handelsblatt, those awarded in this category are renowned lawyers and jurists "with a currently outstanding position in the market".
We are very pleased that this year Dr. Malte Köllner has received this special award as "Lawyer of the Year" in the Handelsblatt ranking 2022 for Germany.
"This confirms the excellent work of the entire team at Köllner & Partner. And of course, I am happy about the personal award as "Lawyer of the Year", especially about DABUS.", comments
Dr. Malte Köllner
, founding partner of Köllner & Partner.
The survey is based on a survey by Best Lawyers, which identifies the most renowned legal advisors in Germany in an extensive peer-to-peer process, especially for the Handelsblatt. We are pleased to receive this award and would like to thank all experts for their recommendations.